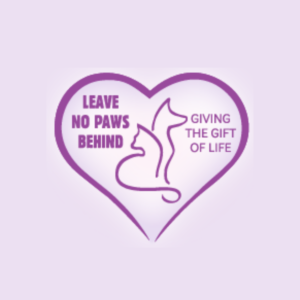 Leave No Paws Behind is a 501 (c) 3 nonprofit corporation located in California. They are an all breed, all foster- based rescue, specializing in seniors, terminal and end of life animals, and pets with special needs. Leave No Paws Behind was founded in June 2011 by Toby Wisneski who wanted to make a difference in the lives of senior animals abandoned in the shelters. Toby  had a soft spot in her heart for the aging animals who, after living so many years with the only humans they ever loved, suddenly found themselves abandoned and left to die on a cold shelter floor alone and wondering. Toby, who herself was the human mommy to a beautiful senior dog of 13 years, could not believe the number of senior pets that found themselves suddenly in peril at a time when they needed their humans the most.
Toby also had a dream that one day she would be able to help pets stay out of the shelters and in their loving homes by finding a way to provide excellent medical care at affordable rates for families in need. In May of 2020, her dream became a reality with the opening of Leave No Paws Behind newest program, "People, Helping People, Helping Paws Low-Cost Veterinary Hospital ", located in West Covina, California. Keeping true to her mission, Toby believes that no pet parent should ever have to choose between life and death for their beloved pet due to the lack of funds for medical care. Toby, though now retired, continues to remain active in the world of rescue. She continues to help save lives as the CEO of Leave No Paws Behind managing the two LNPB life-saving programs that provide medical care.
Toby's journey started with one special golden retriever in March 2012. Toby saw Colby on Facebook wrapped in a sheet and the shelter was going to put him to sleep. She had her own Golden, Alley, her heart dog, and Toby's heart was breaking thinking Colby was going to die alone. Toby rescued Colby and took him to her vet. The doctor unfortunately reported that Colby was riddled with cancer and there was nothing he could do. The doctor went back in to get the euthanasia medication since they did not want to move him. Toby says that Colby laid there letting her pet him. She told him that she knew she wasn't who his eyes were searching for but that she was going to be with him so he wouldn't be alone. He placed his paw in her hand and took his last breath without having to be euthanized. Toby cried a river of tears and promised him that, if at all possible, she was going to make sure no senior animal would die alone in the shelter and it was at that moment Toby knew what her mission was.
The LNPB hospital program serves Southern California families by providing high quality, professional veterinary care utilizing state-of-the-art medical equipment at low-cost to ensure pets stay in their homes and out of shelters while remaining healthy into their senior years. This provides the highest standard of care for under-resourced families and their pets which is usually only available at more expensive, unaffordable hospitals. The program also serves homeless/abandoned animals brought to the hospital by Good Samaritans who cannot afford to care for these animals. This program acts as a shelter diversion program as it provides low-cost (and in some cases pro-bono) veterinary care to families who would otherwise face economic euthanasia or be forced to relinquish their ill or injured dog or cat to a shelter when they cannot afford the high cost of veterinary care.
Toby has been the recipient of various awards due to her hard work. Toby, and the hospital were named Synchrony Bank's "2021 Pillar Prize Award Winner" for "rising above in times of change". They have also received the IDEXX Foundation Grant and the Grey Muzzle Award in 2022.
If you would like to help Toby and Leave No Paws Behind you can donate by visiting their website at LeaveNoPawsBehind.org.
Our pets are family too! To learn more about protecting your loved pets with a Pet Trust, visit ACT4Pets.org. 
https://animalcaretrustusa.org/wp-content/uploads/2020-logo-with-wording-300x192.jpg
0
0
Peggy Hoyt
https://animalcaretrustusa.org/wp-content/uploads/2020-logo-with-wording-300x192.jpg
Peggy Hoyt
2022-11-02 14:47:48
2022-11-03 17:14:42
Toby Wisneski- Leave No Paws Behind