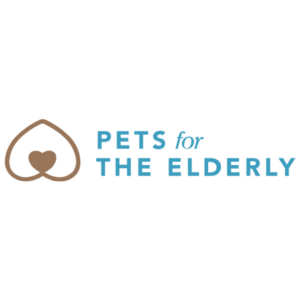 All My Children Wear Fur Coats had the pleasure of speaking with Susan Kurowski, Executive Director, of Pets for The Elderly Foundation. Susan joined Pets for the Elderly in January 2006.  She was hired as a grant writer and accountant, but quickly took on more responsibility.  She has been the Executive Director of the Pets for the Elderly Foundation since January of 2009. Susan is married, has three adult children, five grandchildren, and is currently the proud parent of two rescue dogs.
The Pets for the Elderly Foundation (PFE) is a 501 (c)(3) public charity whose mission is to provide companionship to seniors through pet ownership, while saving the lives of companion animals in shelters; animals which might otherwise be destroyed due to lack of appropriate homes, and space limitations. The program began in 1992 with two shelters near Cleveland, Ohio. Since then, PFE has seen great success and has grown to a nationwide program. PFE branched out nationally in 2002, and has helped successfully place over 100,000 companion animals with senior adopters.
Pets for the Elderly Foundation helps pay adoption fees to participating animal shelters throughout the United States for senior citizens (age 60 and over) who rescue/ adopt a companion dog or cat from a participating shelter – including pre-adoption veterinary exams and spay/neuter, if part of the adoption fee. In 2020, PFE determined that its program would also include funding for shelter programs that cover veterinary services, retention services, food shortage support, and other services for animal adopters. PFE funding is implemented through a certified PFE partner shelter and includes routine veterinary care, surgery, food, home visits and grooming.
On their website PetsforTheElderly.org they explain how research shows the most serious disease for older persons is not cancer or heart disease – it's loneliness. Pets offer affection, unconditional love, fight loneliness, and can help ease the loss of a loved one. Currently, 54 shelters in 32 states are participating in the program. With additional funding, PFE would be able to expand the program to eventually include several shelters in each of the 50 states.
The Pets for The Elderly Foundation urgently needs your help! Your monetary donation can make a difference. Few causes can have the potential benefits that will result from your contribution. You not only save the life of an animal, you can make a dramatic difference in the life of an elderly person. To donate visit their website PetsforTheElderly.org. 
Our pets are family too! To learn more about protecting your loved pets with a Pet Trust, visit ACT4Pets.org. 
https://animalcaretrustusa.org/wp-content/uploads/2020-logo-with-wording-300x192.jpg
0
0
Peggy Hoyt
https://animalcaretrustusa.org/wp-content/uploads/2020-logo-with-wording-300x192.jpg
Peggy Hoyt
2022-10-26 17:57:25
2022-10-26 17:57:25
Susan Kurowski- Pets for The Elderly Foundation