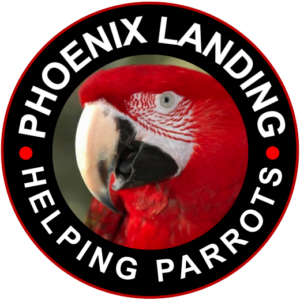 Phoenix Landing is an all-volunteer 501(c)(3) parrot welfare organization. They serve states from Maryland to Northeast Florida through their adoption program. The Phoenix Landing Foundation has a multi-purpose mission that includes providing educational activities; facilitating adoption for parrots; helping veterinary students; sponsoring research and conservation for wild parrots; advocating standards of care for birds; building and maintaining a sustainable organization; and ensuring that birds adopted through Phoenix Landing are physically and legally protected.
Their approach to adoption is for an adoption coordinator to work with the potential adopter to find the best species and personality for that individual and their family.  Adopters need to consider what kind of bird will work well with their family, schedule, and capabilities.  They don't encourage applying for a specific bird. They focus on finding the best possible home for each bird, so they recommend adopters work with them to find the right fit. This means the adoption process will take time – it will be a minimum of one month from the time an application is received before a bird is placed with a potential adopter to begin a foster period.  To be considered as eligible homes should meet or exceed their care standards.
These birds can live into their 90s so it is very important to plan for your companions future. A Pet Trust from Animal Care Trust USA, Inc. is a great way to ensure your bird companion has a lifetime of care. If you missed Phoenix Landings' latest online event, Estate Planning for pets with Peggy R. Hoyt, you can check it out now by clicking HERE.
https://animalcaretrustusa.org/wp-content/uploads/2020-logo-with-wording-300x192.jpg
0
0
Peggy Hoyt
https://animalcaretrustusa.org/wp-content/uploads/2020-logo-with-wording-300x192.jpg
Peggy Hoyt
2022-07-29 15:02:09
2022-07-29 15:02:09
Phoenix Landing Foundation