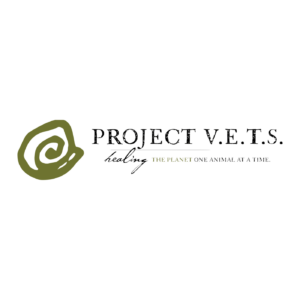 This week on All My Children Wear Fur Coats we had the pleasure of speaking with Megan Curtis, Executive Director of Project V.E.T.S, and Marcy Thrash, Program Director.
Megan has a lifelong passion for wildlife conservation and animal welfare. She has prior experience in foundation development and special events, as well as project management, contract management, and sales operations. She has volunteered with Greenwood Wildlife Rehabilitation Center and has traveled to Central America and Africa for wildlife research and conservation projects.
Marcy manages the inventory, communicates with partner organizations, oversees warehouse staff and volunteers, and helps with a wide range of other jobs. She also owns and operates a therapeutic pet massage practice and works part-time for a small animal practice. Currently, she lives in Longmont, Colorado with her husband, two children and 3 dogs.
Project V.E.T.S is a nonprofit organization based in Boulder, Colorado that serves animals locally, nationally, and around the world. They collect veterinary equipment, technology, and supplies and distribute them to underserved animal welfare nonprofits.
Each nonprofit goes through an approval process and gets a needs list, and then Project Vets puts together customized care packages to send to them.
Project V.E.T.S's goals for 2023 is to expand their program and provide more distributions to existing partners, rather than adding new programs. They want to stay focused on what they are doing, doing it well and providing a quality service to all of their partners. They also plan to add new partners and support that growth with fundraising efforts.
"We reach out to people in our community before we ever go and purchase anything, which I think pretty much the only thing we actually buy is tape to ship our boxes. Otherwise, everything is reused… We've always said outwardly we appear to be an animal welfare nonprofit, but we're really very much equally animal welfare and environmental stewardship and sustainability, they're equally important to everybody involved with project sets and really try really hard to stick with that." – Marcy
They have had more donations than ever in the past year due to COVID and they have been able to create programs to help more animal welfare nonprofits locally.
They also have an annual fundraising event called Tails for Tails, which is held on April 29th in Boulder, Colorado. The event is a gathering of animal and pet lovers coming together to support animals in need. 
Learn more about Project V.E.T.S.
Visit their website at www.projectvets.org. There you can learn more about their impact, applying for assistance, and how to get involved.
Our pets are family too! To learn more about protecting your loved pets with a Pet Trust, visit ACT4Pets.org.
https://animalcaretrustusa.org/wp-content/uploads/2020-logo-with-wording-300x192.jpg
0
0
innaparedes
https://animalcaretrustusa.org/wp-content/uploads/2020-logo-with-wording-300x192.jpg
innaparedes
2023-01-25 05:26:18
2023-01-25 05:26:18
Meghan Curtis & Marcy Thrash – Project V.E.T.S.