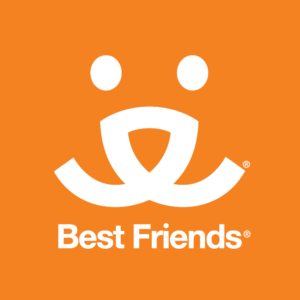 As the Chief Program Officer, Marc Peralta brings together Best Friends' programs and aligns all things related to Best Friends direct care work outside of the Sanctuary along with developing the knowledge and capabilities of individuals and partner organizations involved in lifesaving in order to empower them to achieve no-kill in their own backyard. These initiatives include lifesaving programs, national programs, shelter outreach, mentorship, staff-embedding programs, community cat programs, no-kill leadership training, and emergency response training and operations.
Prior to this position, Marc served as the Senior Director of National No-Kill Advancement and before that Senior Director of Regional Programs for a year, overseeing Best Friends newest initiatives and the foundation of building out and expanding Best Friends' strategy, partnerships and programming in the key Southeast and Mid-Atlantic regions. Before that, Marc served as the Executive Director for Best Friends in Los Angeles for five years. In 2011, Los Angeles was struggling to save just over half of the cats and dogs entering city shelters. As a result of Marc's and Best Friends' leadership, L.A. is on track to reach a 90 percent save rate, the threshold for designation as a no-kill city. Marc's duties as executive director included operations for the Best Friends Lifesaving Center in Mission Hills, California, and the NKLA Pet Adoption Center in West Los Angeles, as well as leadership of the NKLA Coalition, which comprises more than 140 animal welfare organizations.
Marc has also served as Vice President and Chief Operating Officer, as well as Interim CEO, at the Pennsylvania Society for the Prevention of Cruelty to Animals (PSPCA) located in Philadelphia, Pennsylvania. At PSPCA, he was directly responsible for seven statewide facilities, animal control for the city of Philadelphia and humane law enforcement for the state of Pennsylvania. In addition to his duties at the Pennsylvania SPCA, Marc was a member of the board of directors for the Animal Care and Control Team of Philadelphia. Prior to the PSPCA, Marc worked in animal care manager roles at the Nevada Humane Society in Reno, Nevada, working with the team there to bring Washoe County to no-kill status in 2008 (it remains no-kill today), and the Humane Society of the Pikes Peak Region in Colorado Springs, Colorado.
In 1984, the founders of Best Friends made a promise to one another and to the animals already in their care that they would build an animal sanctuary in Southern Utah, where they could dedicate their lives to housing and finding homes for unwanted pets while advocating the importance of no kill. Shelters across America routinely killed cats and dogs as the primary method of pet population control. At this time there was no voice to end the killing. However, as the founders began to expand the reach of Best Friends, they quickly learned that others would stand with them. Almost 40 years later, they have inspired others throughout the country to take up the mantle of no kill and have helped to reduce the number of animals being killed in shelters by 91 percent.
In 2021, about 355,000 dogs and cats were killed in our nation's shelters just because they didn't have safe places to call home. Best Friends is working on changing that. On any given day, Best Friends Animal Sanctuary is the healing home for up to 1,600 dogs, cats, birds, bunnies, horses, pigs and other animals. Best Friends is leading the no-kill movement by running lifesaving community programs for dogs and cats, providing support and training for animal shelters and rescue groups, and mobilizing community members on behalf of pets in need across the country.
If you would like to volunteer, donate, or learn more about Best Friends Animal Society visit their website at BestFriends.org.
Our pets are family too! To learn more about protecting your loved pets with a Pet Trust, visit ACT4Pets.org. 
https://animalcaretrustusa.org/wp-content/uploads/2020-logo-with-wording-300x192.jpg
0
0
Peggy Hoyt
https://animalcaretrustusa.org/wp-content/uploads/2020-logo-with-wording-300x192.jpg
Peggy Hoyt
2022-08-09 18:58:37
2022-08-09 18:58:37
Marc Peralta- Best Friends Animal Society