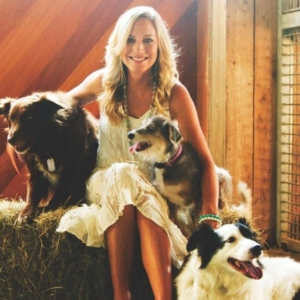 A recognized leader in animal care, protection, and advocacy, Laurie Hood is the founder of Alaqua Animal Refuge, the Southeast's premier, no-kill animal refuge and sanctuary for domestic and wild animals located in Northwest Florida. A true visionary and passionate animal lover since childhood, Laurie has made a lifelong commitment to improve animals' lives as she continues to journey into bold, unchartered territory in an effort to educate others about the importance of animals in our lives and their overall welfare. Under her supervision, Alaqua has rescued and placed tens of thousands of animals into loving homes and environments since its founding 15 years ago, and has also helped countless others through partnerships and community outreach.
Laurie has worked with both state and national legislators to create and strengthen laws to protect animals; authored a curriculum to assist law enforcement for investigating and prosecuting animal abuse cases; starred in "Animal PD," a television series on Nat Geo WILD showcasing stories of Alaqua's animal rescue efforts in conjunction with law enforcement; and created the Equine Interactions Program, an equine-assisted therapy program that utilizes rescue horses to help PTSD and other forms of human trauma. She currently is the host of "Laurie Hood's Difference Makers", a streaming video podcast series that spotlights animal advocates around the world.  She currently serves as the Florida State Director for Animal Wellness Action, the Northwest Florida Regional Director for the Florida Wildlife Federation, the District Leader in Northwest Florida for The Humane Society of the United States, and a founding board member of the E.O. Wilson Biophilia Center.
Caring for and finding loving homes for animals only scratches the surface of what Alaqua Animal Refuge does for its community. Alaqua has developed multiple programs that serve members of our community in all walks of life, from young children with special needs to senior citizens who can benefit from the companionship of one of our animals. They work hard to keep these programs running and are rewarded by witnessing the lives that are changed. Alaqua prides itself in providing only the best quality living conditions for its animals. The cats and kittens spend their days exploring their 'loft apartments' fully equipped with fans and air conditioning, while the dogs and puppies enjoy their own private enclosures complete with a spacious outdoor area where they can be found greeting the staff and visitors. The compound also includes an equine center, two quarantine buildings and an infirmary – where animals rescued from abusive homes and overcrowded shelters are nursed back to health under the care of the veterinarian staff.
The monthly operational costs for Alaqua amount to over $150,000 per month. As a non-profit organization, they operate solely on funds that are raised through donations and fund raising events. Fortunately they have a community of supporters and organizations with giving hearts that are ever willing to help raise awareness and show their support through donations. Laurie and her team are thankful for every giving heart that has helped them along the way. Donations are always appreciated.
Alaqua is currently preparing to move to a much bigger, 100-acre facility in Freeport, Florida. This move will enable them to provide shelter to even more animals as well as allow room for growth with educational outreach and community programs, such as the Equine Interactions Program.
We cannot thank Laurie and her team enough for all she is doing to save these animals and provide them with a life full of love and care. To learn more about how you can help visit their website at Alaqua.org.
Our pets are family too! To learn more about protecting your loved pets with a Pet Trust, visit ACT4Pets.org. 
https://animalcaretrustusa.org/wp-content/uploads/2020-logo-with-wording-300x192.jpg
0
0
Peggy Hoyt
https://animalcaretrustusa.org/wp-content/uploads/2020-logo-with-wording-300x192.jpg
Peggy Hoyt
2022-08-17 15:22:33
2022-08-17 15:22:33
Laurie Hood- Alaqua Animal Refuge