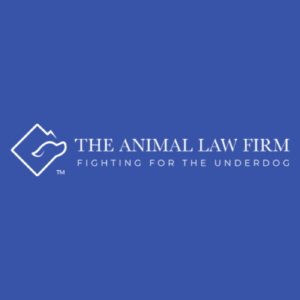 This week on All My Children Wear Fur Coats, we had the pleasure of speaking with Kristina Bergsten, founder of The Animal Law Firm.
Kristina has been practicing animal law for about ten years and started her career in Media, in Pennsylvania. She was working for a family law firm and decided to take on environmental and animal law cases. in 2017, she moved to Colorado and started her own law firm. She started with just one office in Denver and has further since expanded to multiple states. This firm is focused on creative and innovative thinking to apply old legal doctrines to animal-related fact patterns.
The Animal Law Firm specializes in animal law, with areas focused on including criminal defense for dogs that have been accused of biting other animals or people, civil cases such as dog bite defense, torts to get pets back for their owners, breeder contract disputes, and pet purchase contract disputes. The firm also handles cases related to puppy lemon laws–which are laws that protect consumers and requires sellers to provide certain guarantees for the puppies they sell. Such a law usually sets forth certain remedial actions that the seller must take in particular cases. They are very critical of these laws as they believe they do more to protect bad actors than pet owners. Pet custody cases for unmarried couples is also under their umbrella.
The firm primarily aims to raise awareness for animal advocacy and how people can get involved with organizations in this field. The Animal Law Firm also donates profits from the sale of merchandise for their podcast to organizations that appear on their show. They specialize in the growing area of the law, but it's still very small, and so few attorneys do this. Thus, they also provide people with hope for a better industry for animal laws. The firm also provides alternative dispute resolution and mediation in the field of animal law, rather than ending up in a courtroom. They encourage pet owners to be more proactive and think about the things that can go wrong with their pets and try to protect themselves in advance.
"Never put yourself and your pet in a situation that you yourself would not want to be in. You really need to get to know your pet. Like I know my dog, I am my dog's "emotional support human." She is the sweetest dog in the world. But she's very nervous and I know that about her.

And so I don't put her in situations that are going to make her more nervous because that's when she's a good dog. But that would be a bad situation for her. 

And that's what I feel. Most of the dogs that come to me are good dogs, but they were put in bad situations. So I would tell pet owners to be good pet owners and don't put their pets in bad situations." – Kristina
Kristina and her team are dedicated to fighting for the welfare of animals, using creative arguments and out-of-the-box thinking to achieve the best possible outcome for both the animal and its owner. They offer a wide range of legal representation options, from full attorney-client representation to an a la carte selection of tasks. To find out how you can work with them, call to schedule an appointment today. 
Learn more about The Animal Law Firm
Visit their website at theanimallawfirm.com. There you can learn more about the representation of people and pets in pet custody, dog bite defense, service animal representation, veterinary malpractice, breeder contract disputes, and so much more!
Don't miss out on valuable advice and inspiring stories! Tune in to Kristina Bergsten's podcast, Fighting for the Underdog, where she interviews nonprofit and animal advocates from all around the world.
Our pets are family too! To learn more about protecting your loved pets with a Pet Trust, visit ACT4Pets.org
https://animalcaretrustusa.org/wp-content/uploads/2020-logo-with-wording-300x192.jpg
0
0
innaparedes
https://animalcaretrustusa.org/wp-content/uploads/2020-logo-with-wording-300x192.jpg
innaparedes
2023-02-13 10:15:43
2023-02-13 10:16:00
Kristina Bergsten – The Animal Law Firm