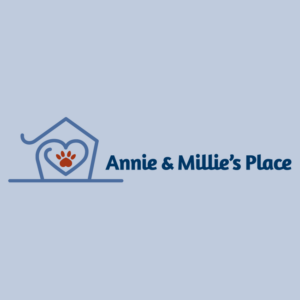 All My Children Wear Fur Coats had the pleasure of speaking with Kristen Baltrum, founder of Annie and Millie's Place. Kristen has a Master of Arts from Luther Seminary in St. Paul, MN and has served for almost three decades in Christian Public Leadership. Following the death of her sister, Annie, who experienced homelessness with her dog Millie, Kristen started Annie and Millie's Place as an outreach to those who are often denied services due to their unwillingness to surrender their animal. Kristen's own transformation story of understanding how important the human-animal bond is for those whose home is the streets inspires her to help others have the same change of heart. Through her willingness to speak openly about the struggles her family experienced, she hopes their story can be a change agent in human-animal services. Kristen and her husband Rob have two adult children, and currently live in Colorado with their two English Bulldogs.
It all starts with Annie. She was a mother, a sister, daughter and a friend to people she knew for years and those she knew for a few minutes. Annie had a warm smile, a selfless spirit, and a big heart. She had compassion for humanity, especially those in need. Annie's self-sacrificial spirit soon led her to experience homelessness herself. Luckily, Annie was never alone. Her dog, Millie, stayed by her side, providing company, and unconditional love. Their connection, friendship, and mutually beneficial support system created a responsibility that gave Annie a purpose. Millie depended on Annie, and Annie on Millie. There were numerous shelters and housing programs available, but these programs were unable to accept Annie and Millie together. Unwilling to surrender Millie, Annie was unable to receive the services she needed. Kristen started Annie and Millie's Place, to flip the script. She is committed to evolving pet-friendly solutions, programs, and resources that keep humans experiencing homelessness and their fur family together. 
Family can come in many forms, and sometimes its a four-legged furry friend. Annie and Millie's Place believes that people do not choose to be homeless and nobody should feel that remaining homeless is the only option to stay with their family. According to the U.S. Department of Housing and Urban Development, 567,715 persons experienced homelessness in a single night in 2019.  Additionally, as many as 25%* of these people have dogs or cats. One program offered is Safe Keep Foster Care where Annie and Millie's Place have partnered with Longmont Humane Society's Safe Keep Foster Program for animals in need of temporary housing. They also are proud to partner with Feet Forward to provide needed pet supplies to people experiencing homelessness in the Boulder community. Annie and Millie's Place even offers Pet Daycare services in partnership with Dee-O-Gee and HOPE for Longmont to provide temporary care for pets while their humans attend appointments, jobs, and other necessary services.
Annie and Millie's Place is currently exploring options that connect organizations that provide overnight shelter to humans and pets in need. Co-Sheltering people and their animal companions is beneficial for both the human and the animal. Their work to advocate for Co-Sheltering in all communities is at the heart of their mission to keep families of all forms together.
To help support Annie and Millie's Place you can donate, become a foster, or contribute to their Amazon Wish List. For more information visit their website AnnieandMillies.org.
Our pets are family too! To learn more about protecting your loved pets with a Pet Trust, visit ACT4Pets.org. 
https://animalcaretrustusa.org/wp-content/uploads/2020-logo-with-wording-300x192.jpg
0
0
Peggy Hoyt
https://animalcaretrustusa.org/wp-content/uploads/2020-logo-with-wording-300x192.jpg
Peggy Hoyt
2022-11-09 18:36:25
2022-11-09 18:36:25
Kristen Baltrum- Annie and Millie's Place