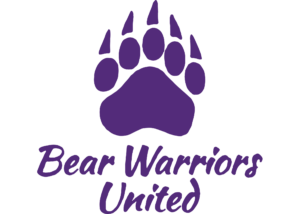 Katrina Shadix started her career in bear rights advocacy during the 2015 Bear Hunting Season where she successfully organized a campaign to stop the hunt of the Florida Black Bear. In 2020 Katrina's bear poaching bill was passed with 100% bipartisan support and was signed into law by Gov. DeSantis. Her efforts now include the nutrient pollution crisis in the Indian River Lagoon where she is pressing legislators to expand the Florida Fish and Wildlife Commission's feeding program for manatees. In addition to being the Executive Director of Bear Warriors United, she serves on several boards including The Foundation for Florida Environmental Protection, The Central Florida Expressway Environmental Advisory Group, serving also as the Chair of the Environmental Advisory Board for Seminole County and the President of Sustainability Leaders Initiative.
Bear Warriors United is a wildlife and environmental non-profit organization whose mission is to preserve and protect bears and all of Florida's natural resources and wildlife. They pledge themselves to saving bear lives and will pursue and accomplish their mission by:
Ending the hunting of bears
Expanding love and appreciation of bears through education
Establishing bear refuges and sanctuaries
Reducing negative bear-human interactions by helping those living in bear country to secure their trash and remove bear attractants.
Supporting bear protection legislation
Protecting bear habitat
Supporting animal sanctuaries and natural enclosures for captive wildlife in lieu of concrete pits and the archaic confinement of roadside zoos.
Katrina has been lobbying and advocating for an extensive manatee feeding program in Tallahassee as well as speaking at local county commission meetings to stop nutrient and chemical pollution since the first unusual mortality event took place. Many of the animals face starvation because their favored seagrass food is disappearing due to water pollution from agricultural, sewage, urban runoff and other sources. Now, in another high mortality season, Katrina developed the Stop the Starve campaign to beg policymakers stop chemically treating hydrilla and water hyacinth, but rather mechanically harvest them to add these nutrient-rich plants into the FWC feeding program. These plants should be left alone as they are a great source of nutrients for the manatees. The FWC currently has an unsuccessful feeding program using romaine lettuce to prevent the Mantatee's from starving.
The Central Florida 5Keg is a annual event in April hosted by Bear Warriors United.  Proceeds from this event vary yearly.  In 2022, proceeds contributed to the construction of the first and only Bear Sanctuary in Florida at Alaqua Animal Refuge. They also host The Black Bear Romp 5k every year. The proceeds from the event go to subsidizing the cost of bear resistant trash cans for residents in high-bear traffic communities in Central Florida. This event will be hosted on October 22, 2022, at Wekiwa Springs State Park.
Thank you Katrina for all you do for Florida wildlife. If you would like to volunteer, sponsor, or register for the upcoming Black Bear Romp 5k visit their website at BWUnited.com.
Our pets are family too! To learn more about protecting your loved pets with a Pet Trust, visit ACT4Pets.org. 
https://animalcaretrustusa.org/wp-content/uploads/2020-logo-with-wording-300x192.jpg
0
0
Peggy Hoyt
https://animalcaretrustusa.org/wp-content/uploads/2020-logo-with-wording-300x192.jpg
Peggy Hoyt
2022-10-17 13:01:22
2022-10-17 13:01:49
Katrina Shadix- Bear Warriors United