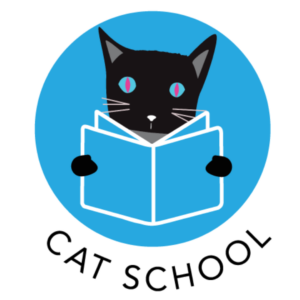 This week on All My Children Wear Fur Coats, we had the pleasure of speaking with Julie Posluns. She is the founder of Cat School, an organization that creates cat training tutorials that are fun and easy for every cat to learn.
Julie is an Associate Certified Applied Animal Behaviorist (ACAAB). Her journey as a cat trainer actually began with an exceptional dog named Tyson.  Tyson had a number of behavioral challenges that led Julie to discover the benefits of clicker training.  She was inspired to return to school to earn a Master of Science in Cognitive and Behavioral Ecology at Memorial University in Newfoundland. 
After earning her degree, fate stepped in. A small black kitten showed up on her doorstep.  His name is Jones. He quickly integrated himself into her household and joined Julie as she trained her dogs. Jones was eager to learn and Julie was amazed at how motivated he was.  Since Jones did so well with the clicker training, Julie wanted to see if she could also train her cat, Mackenzie.  It turns out, Mackenzie was equally enthusiastic.  Now, Julie exclusively works with cats through Cat School. 
Cat School is built on the foundation that every indoor cat deserves to live an enriched life.  Julie became an animal behaviorist to share the most progressive science-based methods to improve the welfare of all animals, but especially cats.  She has had thousands of students learn from her clicker training programs and has proved that cats can be easily trained. 
The Cat School website offers training products, training tips, and an opportunity to work with Julie and her team with a Cat School Membership. As part of the membership program, pet parents learn about different training methods, while utilizing a training roadmap to keep you on track. You'll learn how to teach your cat tricks, walk on a leash and solve behavioral training issues.  
The Cat School's mission is to make training a fun, easy, and enriching experience for cats and their people.
"We make the training process achievable and more joyful for you and your cat."  – Julie
Learn more about the Cat School.
Visit their website at https://www.catschool.co/ to learn more about the growing community! Our pets are family too! To learn more about protecting your loved pets with a Pet Trust, visit ACT4Pets.org.
https://animalcaretrustusa.org/wp-content/uploads/2020-logo-with-wording-300x192.jpg
0
0
innaparedes
https://animalcaretrustusa.org/wp-content/uploads/2020-logo-with-wording-300x192.jpg
innaparedes
2023-06-22 09:00:56
2023-06-18 01:57:32
Julie Posluns – Cat School