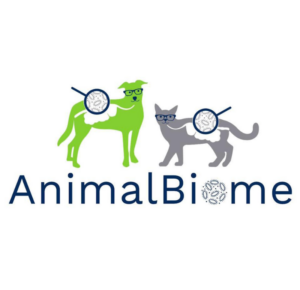 This week on All My Children Wear Fur Coats, we had the pleasure of speaking with Holly Ganz, the Chief Science Officer of AnimalBiome.
Holly has a PhD from UC Davis, an MS from Scripps Institution of Oceanography, UC San Diego, and a BS from George Washington University. She has 20+ years of experience studying the interaction between microbes and their hosts. When she is not working, she enjoys spending time with her dogs in the East Bay hillsides.
AnimalBiome is a company that specializes in microbiome science for pets. They have a large database of gut health information and help veterinarians and pet owners treat gut microbiome problems. Their goal is to improve the health and lifespan of pets through microbiome science and their innovative products.
"Diet has a huge effect.

I think we started to eat less and less fiber as we became wealthier and had more opportunities to eat, like, sugary things or lots of high quality meat that our ancestors didn't have the opportunity to have. So they had to fill themselves with more things that we cut off the asparagus at the bottom because it's a little bit tough, but actually eating that might actually be better for our gut." – Holly 
AnimalBiome offers services to support a pet's gut microbiome to prevent digestive, skin, and immune system issues. They have a product called Gut Restore which is an oral fecal transplant capsule, and a yeast-based probiotic called SBOO (name subject to change). The scientist prefers Espoolardi over Metronidazole because of its support of native gut bacteria and non-competitive nature. They also offer Gut Maintenance Plus with a bacteria phage cocktail. Bacteria phages are viruses that kill bacteria without causing harm. Sometimes chronic diarrhea can make it difficult for good bacteria to colonize, but their products can help support better outcomes.
Learn more about AnimalBiome
Visit their website at animalbiome.com. There you can learn more about microbiome and how it can heal your pets. You can also find pet health products, cat and dog health articles that can help you improve your pet's overall health!  
Our pets are family too! To learn more about protecting your loved pets with a Pet Trust, visit ACT4Pets.org
https://animalcaretrustusa.org/wp-content/uploads/2020-logo-with-wording-300x192.jpg
0
0
innaparedes
https://animalcaretrustusa.org/wp-content/uploads/2020-logo-with-wording-300x192.jpg
innaparedes
2023-02-16 09:00:27
2023-02-16 04:03:51
Holly Ganz – AnimalBiome