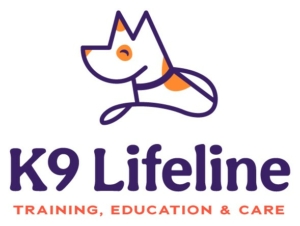 Heather Beck created K9 Lifeline® to save the lives of dogs.  In 1995, she moved to Utah and attended a local adoption event.  For Heather, this was a life-changing experience.  She says, unlike some other dog trainers, "I was not raised by wolves," nor did she grow up with dogs.  However, she loves dogs and has a special empathy for them.  She has been years working with shelters and rescues, fostering hundred of dogs and learning everything she could to make dogs "more adoptable." 
Her passion for dogs became her purpose.  Eventually she moved from rescue to training and since then she has "been able to save so many more dogs lives."  She teaches owners how to create  better relationships with their dogs and keep them out of shelters.  For many of the dogs she works with, it is a matter of life and death.   
She started K9 Lifeline® out of necessity.  Both dogs and their humans need a safe place to socialize along with simple and effective tools, techniques and methods to help build dog-human relationships.  "K9 Lifeline® offers training based and dog approved care in a unique, safe and clean environment that provides physical, mental, and emotional well-being for dogs.  She does this by caring for dogs at her facility and sharing her training product and methods throughout the world! 
Her team is made up of enthusiastic and very motivated individuals.  They have come together due to a mutual love and respect of dogs. Her facility is a destination for dog professionals from around the world who seek Heather out to train with her.  She shares her knowledge and experience and through th ripple effects she hopes to see dogs everywhere live happier and fuller lives.  Heather is also the founder of Heather's Heroes, a site for dog owners to lean how to become a hero to their own dog.  
Heather is also the creator of the Sidekick, an innovative and gentle dual purpose, no pull, training tool.  The Sidekick allows dogs owners to transition form a pulling dog to a calm companion. You can visit her website to see how the Sidekick works or to place an order. Every time someone purchases from K9 Lifeline®, she donates a portion of the proceeds to rescue shelters around the world through her #oneleashonelife program.   
Heather has taken her unique training skills and has taught her Texas Longhorn steer to allow her to ride him.  She also has three camels as part of her crew.  Listen to our show to learn more about Heather and her unique training philosophy.   
Heather supports the work of Animal Care Trust USA and agrees that pet parents should make sure their pets are protected with a Pet Trust and a lifetime plan for love and care.   
https://animalcaretrustusa.org/wp-content/uploads/2020-logo-with-wording-300x192.jpg
0
0
Peggy Hoyt
https://animalcaretrustusa.org/wp-content/uploads/2020-logo-with-wording-300x192.jpg
Peggy Hoyt
2022-03-14 13:15:25
2022-04-04 13:16:14
Heather Beck – K9 Lifeline and Heather's Heroes