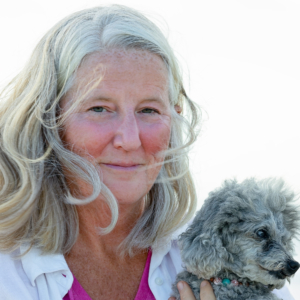 Listeners enjoyed a lively conversation with our guest Dr. Ruth Roberts.  She is a graduate of the North Carolina Statue University – College of Veterinary Medicine.  She has also studied Traditional Chinese Veterinary medicine and became certified in Acupuncture, Chinese Herbal Medicine and Food Therapy at the Chi Institute in Florida.  In 2006, Dr. Ruth created The Original CrockPet Diet™.  Since then, she has been teaching her clients how to home-cook for their pets.  In 2016, she left the traditional clinical veterinary practice and began working solely by remote consultation with pet parents.    
She's not just a veterinarian or Holistic Pet Health Coach, she's your pet's ally.  Her role goes beyond checkups and surgeries.  Her life's mission is to help give your pet a better life, one that is full of many happy, healthy years.   
The Original Crockpet Diet™ is a balanced home cooked diet for pets as the foundation for better health.  Even if you don't consider yourself to be a cook (like me), she reports that the recipes are simple and can be made in larger batches for freezing and future use.  Each recipe will include lean proteins, veggies, beans or legumes, a starch, water, calcium, herbs and a multi-vitamin.  Since all ingredients are human grade, you can feed it to your spouse – just add a little salt!  You can order today with this link.  
Dr. Ruth has lots of courses available for pet parents on her website.  In addition to The Original Crockpet Diet™, there's a program for kidney health, a program for gut instincts natural digestion & GI health and the opportunity to join the IPETS Ally Ultimate Program.   She also has supplements available for sale for dogs, cats and humans.  You can also consult personally with Dr. Ruth for your pet's better health.   
In addition to providing for your pet's overall health, Dr. Ruth agreed that having a plan for the lifetime care of your loved pet if something happens to you is an important part of pet ownership.  If you want more information on how you can protect your pet with a Pet Trust, visit Animal Care Trust USA.   
https://animalcaretrustusa.org/wp-content/uploads/2020-logo-with-wording-300x192.jpg
0
0
Peggy Hoyt
https://animalcaretrustusa.org/wp-content/uploads/2020-logo-with-wording-300x192.jpg
Peggy Hoyt
2021-12-14 14:26:31
2021-12-14 14:26:31
Dr. Ruth Roberts – Creator of The Original CrockPet Diet™