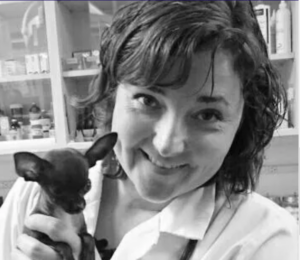 All My Children Wear Fur Coats was pleased to introduce Dr. Melissa Jacobs! She is a veterinarian, biology lab instructor, and mother, not only to her children but to the famous Remy. Remy is the very special 12-year-old Pitbull who inspired RemysBrands. Dr. Jacobs adopted Remy in December of 2010 after convincing her husband it was time to get a dog. It took her two trips to the humane society to finally adopt him – the first time she noticed him, but he did not have a name or any information on his cage. The second time she visited, Remy was still there, so she asked about him again. This time, the manager discovered Remy had been inadvertently overlooked. He was never named or listed for adoption.
The health issues Remy developed over time inspired Dr. Jacobs to develop RemysBrands and PawSoak. PawSoak is a natural, non-medicated, pure Epsom Salts & Colloidal Oatmeal bath blend for dogs and cats. It can be used on paws or added to the whole bath for a therapeutic soak. PawSoak is especially helpful for pets who lick or chew their paws, have allergies, or have skin issues. You can purchase PawSoak on Amazon as well as RemysBrands Etsy shop.
RemysBrands was also developed to help spread awareness for pet healthcare. There are articles listed on their website to help educate pet parents on what to look out for. One of these incredibly helpful articles is titled "What did you eat?" The 5 Critical Pet Toxins List You Need. In this article, Dr. Jacobs goes on to explain 5 of the top 10 harmful poisons your pet may have access to at home. She also includes helpful links if you wanted to continue researching the topic. RemysBrands' website also has a section titled Trusted Resources for Pet Owner. Dr. Jacobs has listed trusted professional resources that offer free services.
If you have a pet who suffers from hot spots, allergies and itchy skin make sure to go to RemysBrands.com! You can also check out their Etsy shop which features fun graphic designs on products for pets and people who love pets.
Our pets are family too! To learn more about protecting your loved pet with a Pet Trust, visit ACT4Pets.org. 
https://animalcaretrustusa.org/wp-content/uploads/2020-logo-with-wording-300x192.jpg
0
0
Peggy Hoyt
https://animalcaretrustusa.org/wp-content/uploads/2020-logo-with-wording-300x192.jpg
Peggy Hoyt
2022-06-22 19:48:12
2022-06-22 19:48:12
Dr. Melissa Jacobs- RemysBrands