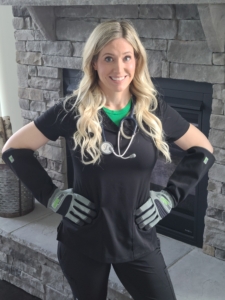 All My Children Wear Fur Coats loves to learn about new products! This one, created by Dr. Laura Catena, is the ArmOR Hand Glove®.  Dr. Laura learned the hard way that veterinarians, animal caregivers and pet parents need extra protection when handling pets in stressful situation.   
In January 2009, Dr. Laura was working in emergency medicine.  A kitten bit her on the thumb, which became severely infected and nearly took her life.  She had to have extensive surgery and months of physical therapy.   
As a result of her injury, Dr. Laura developed the ArmOR Hand Glove® that will  help protect against animal-related injuries.  The gloves allow the proper restraint technique due to their superior flexibility and dexterity.  They are made of stretch Cordura and a double layer of Kevlar®.  They come in multiple sizes for the best fit. 
The glove material is all synthetic/vegan.  They are not bulky allowing the wearer to properly restrain the held pet so they won't slip out of your hands. They are hand-sewn and machine washable.  They can be wiped down to decrease zoonotic and infectious disease transmission.  They come in two styles – one with full fingers and one with three open fingertips for doing sensitive procedures or palpations.   
It is estimated there are five million dog and cat bites annually with 400,000 of these resulting in a visit to the ER.  Eighty-five percent of animal bites have bacteria or pathogens.  The ArmOR Hand Glove® can help prevent exposure and serious infection.  The gloves are valuable to veterinarians and their teams, pet owners, animal rescue and kennel workers, groomers, and wildlife specialists.   
Dr. Laura brings decades of experience to the creation of this unique product.  She is a 2008 graduate of The Ohio State College of Veterinary Medicine.  She works primarily as a small animal veterinarian.  She is a recipient of the Pet Age 2021 Women of Influence Award.  In addition to her work in veterinary medicine, she is an animal welfare advocate and helps to pass legislation to ban cat declawing in the United States.  See our recent show with Jenny Conrad, founder of the Paw Project.     
https://animalcaretrustusa.org/wp-content/uploads/2020-logo-with-wording-300x192.jpg
0
0
Peggy Hoyt
https://animalcaretrustusa.org/wp-content/uploads/2020-logo-with-wording-300x192.jpg
Peggy Hoyt
2022-03-21 13:16:29
2022-04-04 13:17:39
Dr. Laura Catena – ArmOR Hand Glove