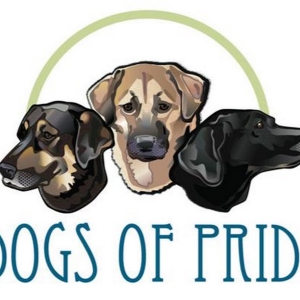 Our guest on behalf of Dogs of Pride and Finnessiam Holistic Health was owner/founder, Wendie Patrick.  We discovered we had a lot of things in common, not the least of which is our love for dogs.  Wendie has had a lifelong passion for animals and more recently a revelation in her own health.  She is committed to sharing her energy, skills, knowledge and experiences to give everyone, both two and four-legged solutions for feeling better.   
Wendie is the owner of Dogs of Pride, a natural pet company that helps pet parents get to the root of their pet's health problems.  They are purveyors of professional products for pampered pets and their people.  Wendie loves to educate and empower pet parents to make informed decisions and provides a natural and safe alternative to commonly used pet products.  All products are safe for pets and have been tested first on humans, namely, Wendie!  You can visit her online store or search for a store near you!   
She is also the founder of Finnessiam Holistic Health.  The name Finnessiam grew out of a mash-up of names from three of her favorite dogs, Finn, Jesse and William.  Today she is inspired by her dogs, Miss Elizabeth Taylor (aka Lizzy/Kenzia's National Velvet) a poodle princess and Dimitri (Vegasdreams White Russian), a Sealyham Terrer.  She also has two horses, buddy Murphy and Zaffar.  And don't forget the feline contingent, her two kitties!   
Some of the services offers by Finnessiam are real tissue salts, quantum touch, auriculotherapy, energy work, skin and coat analysis, remote testing and photo biomodulation along with photonic light therapy.  She works in person as well as remotely so she can help regardless of location.  Of course, if you want to travel to Nova Scotia, she'll be happy to see you on her home turf.   
Wendie hosts a podcast call Quantumly Yours where each week she is explores ways to empower pet owners to take control of their pet's health and well-being.   
Animal Care Trust USA is proud to present All My Children Wear Fur Coats with Peggy Hoyt so pet parents are prepared for the lifetime love and care of their loved pets.   
https://animalcaretrustusa.org/wp-content/uploads/2020-logo-with-wording-300x192.jpg
0
0
Peggy Hoyt
https://animalcaretrustusa.org/wp-content/uploads/2020-logo-with-wording-300x192.jpg
Peggy Hoyt
2021-08-03 12:26:17
2021-08-03 12:26:17
Dogs of Pride and Finnessiam Holistic Health with Wendie Patrick