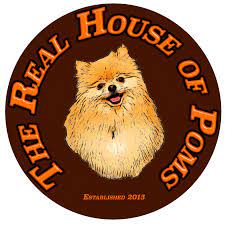 Who doesn't love a Pomeranian?  Nobody, right?  Well, if you love one, you'll also love a whole house full!  Dan Walden is the owner of 8 Pomeranians – all boys with names that begin with the letter "B".   There's Bodi, Brogan, Bentley, Brooks, Bart, Parker Bradley, Beckham and Brutus.  They are the Real House of Poms!   
Dan Walden has taken his love for Pomeranians and created a nonprofit organization, The Real House of Poms Foundation to assist low- and moderate-income families with defraying the cost of veterinary expenses from $500 – $5,000.  Dan and his spouse are committed to this mission because they know how important having a dog is for better overall mental health.  Dogs can reduce stress, anxiety, depression, ease loneliness, encourage exercise and playfulness and even improve cardiovascular health.  If you know of someone who needs assistance, encourage them to submit an application.  You can also help by making a donation.    
The story of the Real House of Poms began in 2013 when Dan first considered getting a dog.  He was looking for a great companion that could accompany him on his daily runs.  But, when he saw Bodi, his first Pomeranian, the rest became history.  Then he started adding additional Pomeranians to his growing family until it became the Real House of Poms.   
I am also a Pomeranian lover and share my home with six dogs, only one of which is a Pom – Prince Piper.  Wherever I am, you'll likely also find Piper.  They are just so darn cute!   
Stay tuned for more about the Real House of Poms.  You can find them on Facebook and on Instagram!   
If you've got multiple pets, you need a Pet Trust to ensure that your pets are loved if something happens to you!   
https://animalcaretrustusa.org/wp-content/uploads/2020-logo-with-wording-300x192.jpg
0
0
Peggy Hoyt
https://animalcaretrustusa.org/wp-content/uploads/2020-logo-with-wording-300x192.jpg
Peggy Hoyt
2022-02-07 13:13:13
2022-04-04 13:15:10
Dan Walden – The Real House of Poms