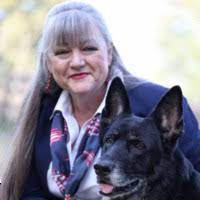 Today's guest was a return visitor, Carol Borden, founder and CEO of Guardian Angels Medical Service Dogs.  They are now in their 11th year of providing service dogs to the disabled community.  They serve both veterans and other persons with disabilities.  Guardian Angels focuses exclusively on German Shepherd Dogs.  
Carol shared that German Shepherds were the original service dog, serving blind war veterans after World War I.  Their versatility makes them ideal for other service dog jobs.  Today, Guardian Angels has more than 350 teams across the country and they hope to add another 50 teams this year.   If you need a service dog, you can make an application here.  Guardian Angels also helps people that have their own dogs that may be suited for training as a service dog.  This program is called P.E.T.S. (Pets, Evaluated and Trained for Service Program).  You can find more information here.  
Recently recognized as a top service dog is Alice.  Alice is the 2019 Hero Dog of the Year!  You can view her video here.  Her person is Antonio, a young man with seizures. Antonio suffered a gunshot wound to the head at the age of nine, while sitting in his parents' care in 2015.  He has had more than five brain surgeries leaving him with permanent traumatic brain injury.  Since 2016, Alice spends 24/7 with Antonio and helps him with balance and alerting to an oncoming seizure.  They train each day due to Antonio's limited short term memory.  Antonio's mom says, "Alice is truly Antonio's Guardian Angel."     
When travel was limited in 2020, Carol got busy with other ways she can help the animal community.  She has recently founded the Borden Institute of Higher Learning for the purpose of offering college accredited courses in different animal careers including dog training and veterinary assistance.  You can contact Guardian Angels Medical Service Dogs for more information.   
One unique aspect of Guardian Angels is they way they train their young aspiring service dogs.  They are trained "on-campus" until they are approximately one year of age.  At that time, they are placed with a foster home for an eight-week training period.  The foster is expected to take the young dog with them every where they go exposing them to all possible experiences.  At the end of the training period, the dog is returned to Guardian Angels for their final training and ultimate placement with their special person.  The foster can then have the opportunity to work with another dog.   You can find a great picture of some young dogs "in school" on their Our Story page.   
Guardian Angel teams (a person and a dog) are followed for life.  If the human passes away, the family may keep the dog or in some cases, the dog can be placed with another deserving person.  Sometimes, the dog is retired and placed with a loving family.  In any event, all dogs have forever homes.   
There are lots of ways to get involved with Guardian Angels.  You can volunteer, you can become a foster, you can donate or shop to donate, you can enroll in their Paw Prints Club, or you can become a major donor through their Passing of the Leash Society.  You can even visit the campus on a Saturday for their "Puppy Hugging".  The options are endless.   
Carol says, "There is no time like the present."  Get involved today!   
https://animalcaretrustusa.org/wp-content/uploads/2020-logo-with-wording-300x192.jpg
0
0
Peggy Hoyt
https://animalcaretrustusa.org/wp-content/uploads/2020-logo-with-wording-300x192.jpg
Peggy Hoyt
2021-03-23 20:08:37
2021-03-23 20:08:37
Carol Borden – Guardian Angels Medical Services