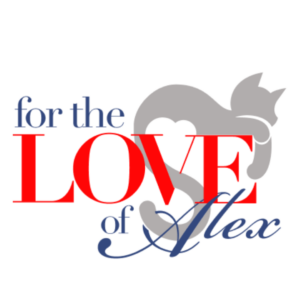 This week on All My Children Wear Fur Coats, we had the pleasure of speaking with Carla Isenberg, the program manager of For the love of Alex.
Carla has been with the Love of Alex since 2021. She's a passionate animal lover and has advocated for the well-being of all creatures, great and small, for her entire life. She also has ten years of experience as a veterinary technician, and her medical knowledge has also been a great asset. 
For the Love of Alex is a nonprofit organization founded in 2013 that provides emergency funding for urgent and lifesaving care of pets of low-income families. Elizabeth, the organization's founder, ran it by herself for five years until her untimely death. Fortunately, Elizabeth's friends stepped in to help and have kept the organization going. This demonstrates the power of community and the importance of building solid relationships with those who share the same passion and goals. This collective effort ensured that her legacy lives on.
The mission For the Love of Alex is to save the lives of pets and bring hope to their owners. Donations made to the organization go directly towards providing life-saving medical treatment to pets in need and supporting pet owners struggling to afford the cost of veterinary care. Through the generosity of donors, For the Love of Alex continues to make a meaningful difference in the lives of pets and their owners.
"Thank you to everyone that does support our organization. We couldn't do what we do without these people and we have some amazing donors that give so graciously, and they've been loyal for ten years" – Carla
The story of For the Love of Alex is a reminder that even when faced with difficult circumstances, there is always hope. It highlights the importance of building a solid support system and the impact that a single individual can have on a cause. Elizabeth's life and work have inspired many to continue fighting for animals' well-being and supporting those who need it most.
Learn more about For The Love of Alex 
Visit their website at https://www.fortheloveofalex.org to learn more about the work For the Love of Alex is doing. By reading about their efforts, you can better understand the challenges they face and how they are working to make a difference.
Our pets are family too! To learn more about protecting your loved pets with a Pet Trust, visit ACT4Pets.org. 
https://animalcaretrustusa.org/wp-content/uploads/2020-logo-with-wording-300x192.jpg
0
0
innaparedes
https://animalcaretrustusa.org/wp-content/uploads/2020-logo-with-wording-300x192.jpg
innaparedes
2023-03-14 07:38:50
2023-03-14 07:46:53
Carla Isenberg – For The Love of Alex