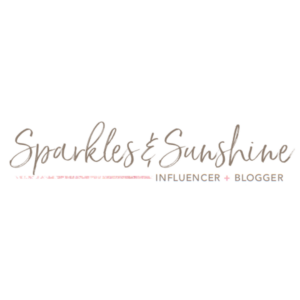 This week on All My Children Wear Fur Coats, we had the pleasure of speaking with Caitlin Brown. She is the founder and CEO of Sparkles and Sunshine Blog.
Caitlin started her blog as a creative outlet from her full-time job. It quickly blossomed into something much more meaningful.
The mission of Sparkles and Sunshine Blog began as a few blog posts which soon transformed into a passion for helping fellow pet parents. 
Caitlin recognized the need for reliable information about puppy training tips, big dog care, and dog enrichment ideas. She wanted to provide a platform for pet owners to find helpful and relatable content to enhance their relationships with furry friends.
"With the first company I worked for, they were starting a blogger program. I said, that looks fun! I want to do that.

This is a cool way for me to do something that was my own. I could just be myself fully and go for it." – Caitlin.
Sparkles and Sunshine Blog is a powerful reminder that when we wholeheartedly pursue our passions, something incredible can blossom. Caitlin's journey began as a mere creative outlet. Her dedication and love for pets transformed it into a source of inspiration and guidance for countless pet parents.
Learn more about the Sparkles and Sunshine Blog
Visit their website at https://sparklesandsunshineblog.com/ to learn more about them.
Our pets are family too! To learn more about protecting your loved pets with a Pet Trust, visit ACT4Pets.org. 
https://animalcaretrustusa.org/wp-content/uploads/2020-logo-with-wording-300x192.jpg
0
0
innaparedes
https://animalcaretrustusa.org/wp-content/uploads/2020-logo-with-wording-300x192.jpg
innaparedes
2023-06-29 09:00:46
2023-06-18 01:45:34
Caitlin Brown – Sparkles and Sunshine Blog