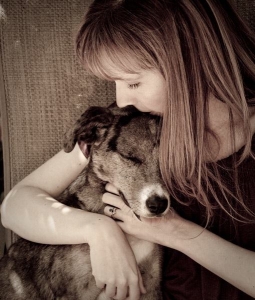 Kathleen Prasad describes Animal Reiki as "a beautiful way to bring peace to every moment." She has been pioneering in the field of Animal Reiki for over 22 years.  She has taught thousands of animal lovers this sacred healing art, written multiple books on the subject of Animal Reiki, authored the Code of Ethics for the profession and has created the world's first and only nonprofit organization (Shelter Animal Reiki Association, known as SARA) dedicated to helping rescued animals with the healing art of Animal Reiki.   
She was first introduced to Reiki (a form of spiritual energy) in 1998 by her mother-in-law and discovered she loved it and her animals did too.  Kathleen was further inspired to focus her efforts on shelter animals after adopting Dakota, an Aussie mix, from a shelter in California known for selling dogs to medical laboratories.  
She began her professional career as a middle school teacher (a group she loves because of their youth and inquisitive nature) but after discovering the benefits of Animal Reiki with shelter animals, she has devoted herself full-time to educating professionals and animal enthusiasts about the benefits of Animal Reiki.  She is the founder and creator of Let Animals Lead®, an Animal Reiki method that focuses on meditative healing versus traditional hands-on healing methods.  IF you are interested in learning more you can take her online course or become a certified practitioner or teacher of the Let Animals Lead® method.  
Kathleen shared with our listeners her journey with cancer.  After her diagnosis she felt like people didn't see her any more – they tended to focus on her illness.  She feels like people treat shelter animals the same way – as a victim of their story instead of looking into their heart and seeing perfection.  Fortunately, animals don't view humans as "their story" but always accept us unconditionally and love us just as we are.  
You can help in many ways – become a certified Let Animals Lead® practitioner and/or support SARA by making a donation so the organization can continue its good work and provide scholarships and education to shelter workers to expand their Animal Reiki education.  
I shared with Kathleen the mission of Animal Care Trust USA to keep loved pets in loving homes by educating pet parents about the importance of protecting their pets with a pet trust.  Her goal and ours are similar – animals suffer when they are in a shelter environment.  No loved pet deserves to ever find themselves in a shelter where the trauma of being in that environment can have a life-long negative impact.  Our goal – keep them out of shelters.  Her goal – if pets find themselves in a shelter environment to provide them with healing love and care.   
https://animalcaretrustusa.org/wp-content/uploads/2020-logo-with-wording-300x192.jpg
0
0
Peggy Hoyt
https://animalcaretrustusa.org/wp-content/uploads/2020-logo-with-wording-300x192.jpg
Peggy Hoyt
2021-11-09 18:50:28
2021-11-09 18:50:28
Bring Peace to Every Moment with Kathleen Prasad