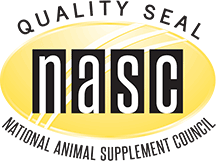 All My Children Wear Fur Coats had the honor today to talk with Bill Bookout, the President and Co-Founder of the National Animal Supplement Council (NASC).  The NASC is a nonprofit trade association whose mission is twofold:  to promote the health and wellbeing of companion animals and horses given animal health supplements by their owners, and to protect and enhance the animal health supplement industry.   
NASC was founded in 2001 when eighteen (18) organizations came together to recognize the issues surrounding the supply of health supplements for companion animals and horses.  They celebrate their 20th anniversary this year!  John Bookout was an executive with a medical device company.  After his beloved dog, Lancelot was diagnosed with cancer, he made a career change from people products to animal products.  He wanted pet parents as consumers to have a marketplace where there were offered only the highest quality products.   
The mission of NASC is simple:  to promote the health and wellbeing of non-human food chain animals that are given animal health supplements, by establishing federal and state regulations that are fair, reasonable, responsible, and nationally consistent.  Today, there are more than 258 member organizations that meet the rigorous standards required for membership.  Members can be either a Primary Supplier Member or a Preferred Supplier Member. 
Supplements can fall into two categories: 1. Health supplements and, 2. Nutritional or feed supplements.  Health supplements are intended to support maintenance of normal biological structure and function in animals.  Joint support products containing glucosamine, chondroitin sulfate or MSM are examples of health supplements.  A nutritional or feed supplement is intended to provide nutritional value as a component of a complete and balanced diet.  Vitamin and mineral products are examples of nutritional supplements.  NASC does not monitor complex and balanced food dies nor do they monitor pet treats.   
Most animal health supplements are considered "drugs of low regulatory priority" and are regulated by the Food and Drug Administration (FDA). For nutritional supplements, they may be regulated by the FDA as well as the Association of American Feed Control Officials (AAFCO).  
NASC has created a Quality Seal as a way for consumers to know that when they buy a product, it comes from a reputable manufacturer.  I was happy to see that I recognized many of the NASC members for products I use for my own pets.  You can view those NASC members who have completed a quality audit and are qualified to display the NASC Quality Seal by clicking here.  
If you are a animal supplement product manufacturer and you want more information about membership in NASC, click here.   
NASC, through Bill Bookout, supports Animal Care Trust USA and our mission of keeping loved pets in loving homes.  He recognizes that our pets are important and beloved family members who are entitled to lifetime love and care.  Stay tune as Animal Care Trust USA and NASC work together to provide valuable educational opportunities for their members and constituents.   
https://animalcaretrustusa.org/wp-content/uploads/2020-logo-with-wording-300x192.jpg
0
0
Peggy Hoyt
https://animalcaretrustusa.org/wp-content/uploads/2020-logo-with-wording-300x192.jpg
Peggy Hoyt
2021-09-02 14:32:31
2021-09-02 14:32:31
Bill Bookout – National Animal Supplement Council (NASC)