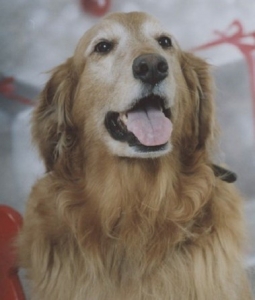 Humans love the opportunity for a good massage.  So do dogs!  JoAnne Dykhuizen, owner and founder of Feel So Good Canine Massage located in the suburbs of Chicago, Illinois, shared her journey from the corporate world to the world of canine massage on today's episode of All My Children Wear Fur Coats.
JoAnne is a certified canine massage therapist who is also an educator, author, and speaker.  She is also a Reiki Practitioner and is certified in CPR/First aid for dogs and cats.  When she's not making a dog feel wonderful, she spends her time pet sitting and dog walking.
JoAnne fell in love with canine massage with the help of her loyal friend and companion, Duke, a golden retriever.  Duke came to live with JoAnne and her husband as a small puppy.  He brought so much love and joy to their household.  After JoAnne's husband died, Duke provided JoAnne with much needed unconditional love and compassion.  JoAnne was determined to give back to Duke and in his memory began her canine massage journey.  When she's ready for a new dog, she'll adopt from her favorite golden retriever rescue, As Good As Gold Golden Retriever Rescue of Illinois.
What is canine massage?  It is a complementary modality whose benefits include helping to relive soreness, helping to make joints more flexible, improving range of motion and supporting the immune system.  It should always be used in cooperation with veterinary advice because canine massage practitioners do not make medical diagnoses.
Canine massage is for dogs of all ages.  Puppies benefit from their need for touch to thrive and develop.  It also can help with their socialization.  Senior dogs benefit by helping to help reduce or prevent muscle weakness, ease pain and soreness and encourage movement.  Dogs who are athletes benefit from massage because it can help improve their performance.  It is also excellent for warm ups and cool downs prior to intense activity.  Massage can also benefit dogs recovering from injury, dogs who are anxious or dogs under hospice care.
Reiki can also be a benefit to animals.  It is a gentle, non-invasive energy healing technique.  It is safe, effective and can do no harm.  Reiki helps balance the physical, emotional, mental and spiritual aspects of an animal by releasing energy blockages.
JoAnne recommends a weekly tail to snout assessment paying special attention to checking for lumps and bumps that could be an early indicator of a future problem.  She also told us that 60% of dogs over the age of 8 years hide their pain so it pays to be super aware.
Is there a time when canine massage would not be appropriate?  Yes.  Massage is not appropriate two hours before and two hours after eating.  It is also not recommended for pregnant dogs, dogs with cancer unless recommended by a veterinarian, dogs with open wounds, fever, or neurological disorders.
Thank you for the important information JoAnne shared today and we look forward to learning more in the future – perhaps when she adds cat massage?  You can find her at FeelSoGoodK9Massage.com.
All My Children Wear Fur Coats is brought to you by The Law Offices of Hoyt & Bryan, where we create estate plans for pets and their people.  Also brought to you by Animal Care Trust USA, a national nonprofit whose mission is to keep loved pets in loving homes.  We educate pet parents about the importance of protecting their pets with a pet trust.
https://animalcaretrustusa.org/wp-content/uploads/2020-logo-with-wording-300x192.jpg
0
0
Peggy Hoyt
https://animalcaretrustusa.org/wp-content/uploads/2020-logo-with-wording-300x192.jpg
Peggy Hoyt
2021-09-28 19:19:44
2021-09-28 19:19:44
Anyone for a Massage? Check out Feel So Good Canine Massage with JoAnne Dykhuizen