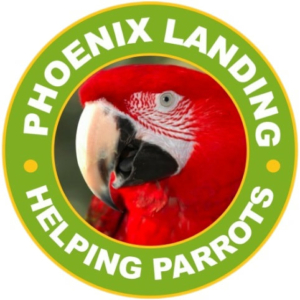 Phoenix Landing Foundation, founded in 2000, is an all volunteer parrot welfare organization.  The adoption center opened in 2010.  They serve states from Maryland to Northeast Florida.  They have a multi-purpose mission that includes providing educational activities; facilitating adoption for parrots, from parakeets to macaws; helping veterinary students; sponsoring research and conservation for wild parrots; advocating standards of care for birds; building and maintain a sustainable organization; and ensuring that birds adopted through Phoenix Landing are physically and legally protected.  Needless to say, they are very busy.  
Ann Brooks is the President of Phoenix Landing Foundation.  She is retired from the federal government and now lives full time in North Carolina, where the Foundation is located.  I had the privilege of being introduced to her by one of my clients who is "mom" to six loved birds.  
Bird ownership became very popular in the 70's and 80's.  As a result, many of these birds are now in their 30's and 40's.  Some have had a lifetime of living in small cages with poor nutrition.  Their owners are now of an age they may be relinquishing these birds for placement.  She told us that they have helped more than 3,200 birds in their 21 years of service.  Even though they have many birds now in foster homes available for adoption, there are more than 100 birds waiting for their help.  
Their approach to adoption is for an adoption coordinator to work the potential adopter to find the best species and personality for that individual and their family.  Adopters need to consider what kind of bird will work well with their family, schedule and capabilities.  They don't encourage applying for a specific bird but to work with them to find the best possible home for each bird.  The process takes time – it will be a minimum of one month from the time an application is received before a bird is placed with a potential adopter to begin a foster period.  Eligible homes should meet or exceed their care standards.   
Ann says birds are very adaptable and can find more than one family that can provide a loving home over their lifetime.  Some birds can live into their 90s and even older!  Getting a bird is a lifetime commitment – theirs, not necessarily yours.  As a result, having a plan, including a Pet Trust from Animal Care Trust USA, Inc. is one way to ensure your bird companion has lifetime love and care.   
There are lots of ways you can help.  You can adopt a bird, you can foster a bird, you can volunteer your time and talents, you can give your money.  You can learn more about parrots and how to love them by attending their annual Wellness Retreat.  This years' program will be held June 4-5, 2022 in Asheville, NC.  You can register online for this information packed event.   
https://animalcaretrustusa.org/wp-content/uploads/2020-logo-with-wording-300x192.jpg
0
0
Peggy Hoyt
https://animalcaretrustusa.org/wp-content/uploads/2020-logo-with-wording-300x192.jpg
Peggy Hoyt
2022-01-31 15:53:03
2022-02-08 15:54:21
Ann Brooks – Phoenix Landing Foundation