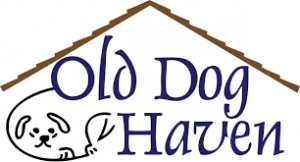 All My Children Wear Fur Coats welcomed special guest, Paula Moreschi, Development Director for Old Dog Haven, a senior dog rescue in Washington State to the show today.  Paul was first introduced to Old Dog Haven after she became interested in adopting older dogs.  She soon became a permanent foster home for a Final Refuge dog, and then began volunteering her time to fundraise for the organization.  She and her dogs have never looked back! 
Old Dog Haven was founded in 2004 to provide safe, loving homes for abandoned senior dogs with no chance of adoption in a shelter.  Once rescued, all dogs live in family homes as either temporary or permanent (Final Refuge) residents.   Old Dog Haven adopts out dogs that have a reasonable life expectancy.  However, more than 90% of their dogs are Final Refuge (permanent placement) or hospice residents that are too frail, old or sick for adoption.   
Since 2016, they have had at least 300 dogs under their care at one time.  There is always a waiting list and they always need more Final Refuge homes.  If you live in Washington State and love old dogs, your next senior dog is waiting for you!   
Old Dog Haven depends on the generosity of their donors to meet their heft monthly medical bills of more than $80,000.  They appreciate even the smallest donation and all donations are tax-deductible.  There are lots of ways to help besides giving money; you can adopt, you can be an ODH Home or you can volunteer.   
Old Dog Haven is a network of loving private homes that are spread out over Western Washington.  They work with dogs that are ten years and older, with priority given to the oldest dogs.  If you have a big heart and want to become an ODH Home you'll be making a commitment to an aging dog for the rest of his or her life; short or long.  The reward for your act of kindness is true love from a grateful senior dog.  Paula reminds us, "The joy outweighs the sorrow."  She has learned from experience that when she loses a loved dog, her heart heals best when she opens it again to another dog in need.  
Final Refuge dogs are those that are not adoptable or shouldn't be moved to another home.  A Final Refuge home is needed to provide a safe loving environment for the last months or years of that dog's life.  In addition to providing the resources for medical care, Old Dog Haven also provides advise and held with end-of-life decisions.  If you have more questions or are ready to offer your home to a Final Refuge dog, you can get more information here.     
If you can't provide a home but you still want to help, you can sponsor an ODH dog. A sponsorship is $30 for 3 months, $100 for a year or $300 for a lifetime.  You can also sign up for their newsletter and stay abreast of what's happening at ODH.   
Have a question about ODH or dogs in general?  You can Ask Murphy!  Thank you for loving an old dog today!   
https://animalcaretrustusa.org/wp-content/uploads/2020-logo-with-wording-300x192.jpg
0
0
Peggy Hoyt
https://animalcaretrustusa.org/wp-content/uploads/2020-logo-with-wording-300x192.jpg
Peggy Hoyt
2021-04-12 20:52:08
2021-04-12 20:53:22
Old Dog Haven – Paula Moreschi