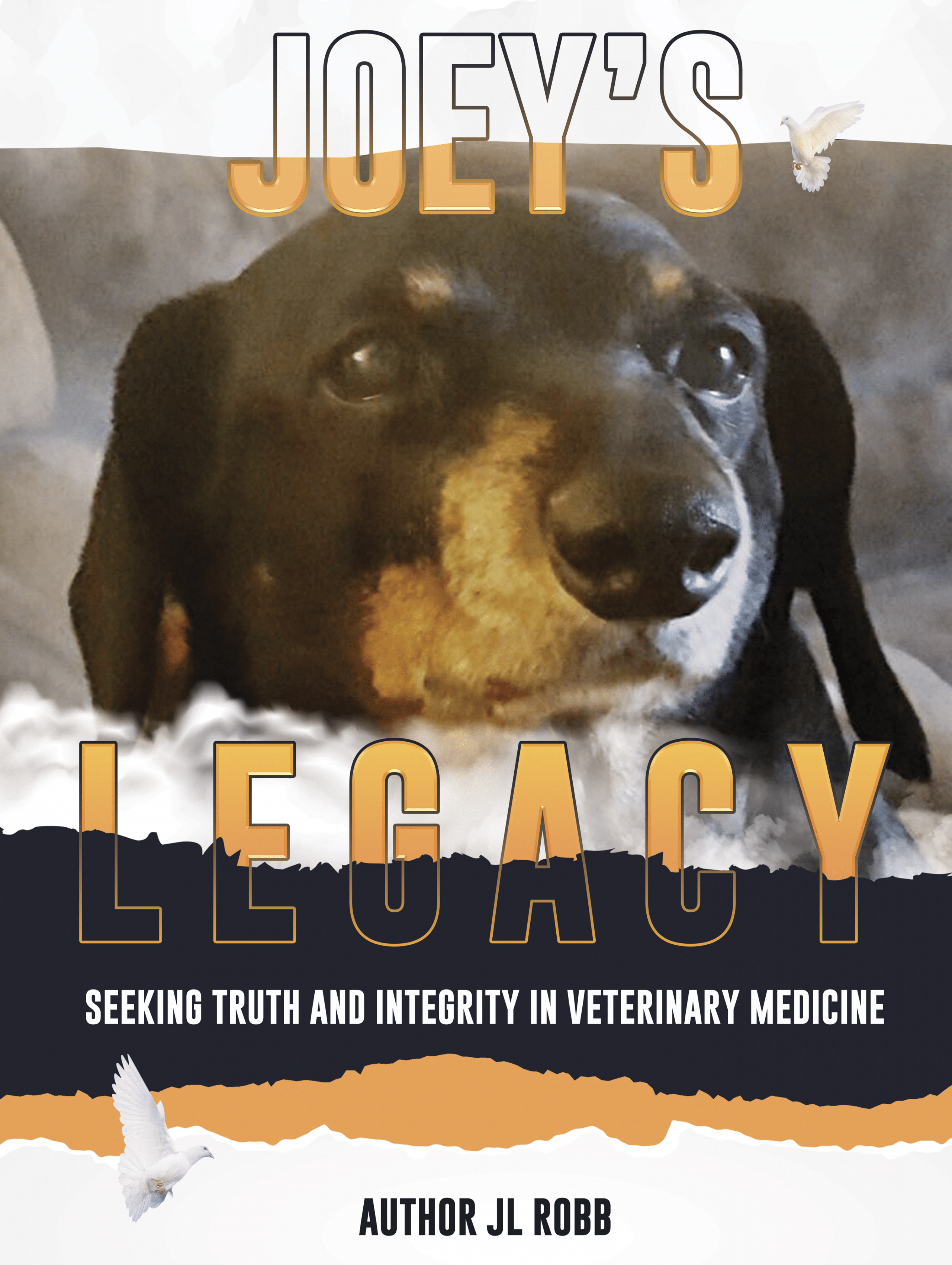 Today's guests were Scott Fine, founder of Joey's Legacy, a national nonprofit organization dedicated to pet parents who are the victims of veterinary malpractice and Jerry (J.L.) Robb, author of the book Joey's Legacy – Seeking Truth and Integrity in Veterinary Medicine, Volumes I and II (so far).  Both men are also responsible for the inspiration and funding of the upcoming documentary by well-known and eight (8) time Emmy award winning director and producer, John Biffar.   
Scott shared with us that today there are more than 2500 members of Joey's Legacy.  Eight-five percent (85%) have never had a bad experience with a veterinarian and are dedicated to keeping the profession honest and operating at the highest standards of integrity.  The other fifteen percent (15%) have been victims of some type of veterinary malpractice, including fee disputes, unexpected drug interactions, as well as serious injury and even the death of a loved pet.  Six (6) out of ten (10) complaints received by Joey's Legacy alleging malpractice are true victims of veterinary malpractice.   
The two primary issues are: 1.  Vets that refuse to be honest about the cause of injury or death; and 2. Boards of Veterinary Medicine that refuse to hold their bad actors accountable.  Scott and Jerry are of the same mind that if we can hold the Boards of Veterinary Medicine to a higher standard and get more non-veterinarians participating that all pet owners will benefit from increased professionalism in the industry.   
Jerry is the author of Joey's Legacy – Seeking Truth and Integrity in Veterinary Medicine.  While compiling the book, he was amazed to learn that so many pet parents had suffered traumatic loss at the hands of their trusted veterinarians.  Volume I, released in February 2021, is more than 600 pages with 46 chapters describing the ordeal experienced by the contributing pet parents.  There was such a tremendous outpouring of interest that Volume II was launched and is expected out later this year.  
Both of Jerry's books and Joey's Legacy will gain greater support and recognition with the release of John Biffar's documentary on veterinary malpractice.  You can help make this dream a reality by providing your support.  There is currently a capital campaign to raise $100,000 to produce the film.  To date, more than $25,000 has been raise but there is still more needed.  You can make your donation at Joey'sLegacy.org/documentary.   
Learn more about Joey's Legacy at their website, on FaceBook, Instgram and Twitter.   
https://animalcaretrustusa.org/wp-content/uploads/2020-logo-with-wording-300x192.jpg
0
0
Peggy Hoyt
https://animalcaretrustusa.org/wp-content/uploads/2020-logo-with-wording-300x192.jpg
Peggy Hoyt
2021-06-25 19:16:35
2021-06-25 19:16:35
Joey's Legacy – Seeking Truth and Integrity in Veterinary Medicine (the book and the movie)